Download Adamawa State College of Nursing Past Questions and Answers Updated Copy now and be well guaranteed to succeed in the screening Exam. These questions have been compiled and drafted from the last screening exercise and screening Exams.
---
Welcome to Pastquestionpapers.com.ng where you get your updated past question papers for any Institution in Nigeria. Now that you have applied for Adamawa State College of Nursing, you need to go through an entrance examination test before you gain Admission. This is where Pastquestionpapers.com.ng come to play, as we have gone as far as compiling the Adamawa State College of Nursing Screening exercise past question paper and answers to help candidates know exactly what to face in the school of nursing entrance examination and how to tackle the questions because proper preparation leads to success. Therefore, to get this updated past question papers and answers, please carefully read through this content to know how to get your own copy.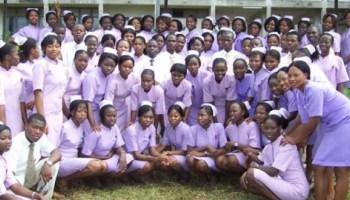 After Downloading the Adamawa State College of Nursing past question and answers, You will understand the pattern of the aptitude test exams and how it is conducted in Adamawa State College of Nursing. Most of these questions in the past questions sometimes do repeat themselves in subsequent years.
Samples Of  School of Nursing Past Questions
SECTION C
BIOLOGY
1. The ability of the human eyes to focus both distant and near objects is called?
a) Normal adjustment
b) Visual pathway
c) Reflex blinking
d) Accommodations
2. The organ that supplies nutrient to a foetus and also plays a protective role is called______
a) Umbilical cord
c) Placenta
d) Uterus
3. The total number of theoracic vertebra in humans is ?
(a) 7
(b) 5
(c)13
(d) 12
4. The functional and basic unit of the mammalian kidney is the
a) Cortex
b) Nephron
c) Medulla
d) Pyramid
5. The sense of balancing is a function of which part of the mammalian ear
a) Auditory meatus
b) Cochlea
c) Eardrum
d) Semicircular canals
NOTE: these past questions you are about to purchase on this page is a PDF soft copy material that has been compiled from the past years entrance examination. It comprises of four subject combinations and they include:
Physics
Chemistry
Biology, and
English Language.
 Adamawa State College of Nursing Examination Past Questions 
The good thing here is that you have been saved the stress of trying to find answers to these questions, and they come with answers to complement each of these questions. To download a copy of the up-to-date Adamawa State College of Nursing past questions PDF and answers, see details below.
Getting a copy of the Adamawa State College of Nursing past questions and answers will go a long way in improving your exam preparatory skill.
Get yours now and have it sent to you ASAP via WhatsApp or Email.
Click to Download FREE Past Questions Here, Or Purchase below.
How to Purchase This Past Questions & Answers
---
Make a bank deposit or mobile transfer of ₦2,000 only to the account given below;
---
Bank Name: GTB
Account Number: 0663846532
Account Name: IJIOMA ELISHA
---
After making the payment, Click Here to send the following;
Depositor's Name or Screenshot of Payment
Name of the Past Question
Active Email Address
---
to us on WhatsApp +2349056340901.  Or Call Us On 07031822769
Once your details have been received and your payment confirmed by us, you will receive the past question in your email or WhatsApp within 5 Minutes.