Jamb CBT Software for 2023 | This Article will guide all Jambites sitting For UTME Candidates Who Want to Get High Score in the 2023 Jamb CBT Examination
---
This is to let all Jambites that the 2023 Jamb CBT Software is available here and ready to download.
Jamb examination is no longer the way it used to be 10 years back. The Joint Admission and Matriculation Board in agreement with the Federal Government of Nigeria that any candidate sitting for the Jamb exam must write with a computer (CBT). This is why we have gone extreme to ensure that all potential undergraduates pass this exam by providing an e-learning system called the Jamb CBT Software, and it is downloadable on either your computer or Android phone
For the year 2023, download JAMB CBT app past questions for all Android phones. How to download modified jamb past questions and answers has been a question we've been getting from jamb aspirants.
This website will introduce you to the Jamb CBT app, which contains over 40,000 jamb past questions and answers, as well as the Jamb novel.
JAMB CBT software past questions has been recognized as one of the best Jamb applications that can assist all jamb aspirants in achieving high scores in the jamb test, especially medicine and surgery students, law students, and students pursuing other professional courses.
Some important Features in the downloadable Jamb CBT Software
There are 17,175 questions in total. Offline – practice real past JAMB UTME questions with comprehensive solutions from 15 topics.
Is it necessary for me to justify that I'm really offline? This app does not require internet access to use.
Subject Selection – Choose specific subjects to increase results in areas where it is lacking.
Topic Selection – At any time, you can choose which subjects you want to practice. Take a look at the images below. You may choose one, two, three, or all four subjects. You should practice all 15 subjects at once if you're nuts.
Past JAMB UTME questions based on Sweet Sixteen – Practice past JAMB UTME questions based on Sweet Sixteen. There's also a comprehensive overview.
Built-in Calculator – Those science subjects would necessitate the use of a calculator. It's right there.
Next-Generation Result Analysis – After each evaluation, you'll see a thorough Result Analysis. This way, you'll be able to see which subjects you're falling behind on.
Bookmarks are a valuable function. You can save a question that interests you or is difficult to answer as a bookmark and return to it at any time.
Flexibility – Nothing in this CBT Software is set in stone. You can configure the number of questions, the time limit, and the exam mode. Anything goes.
Doesn't Expire – Yeah, you read that correctly. This program does not have an expiration date. You'll be able to use it indefinitely. There is no need to pay a subscription fee on a monthly basis.
The Joint Admissions and Matriculation Board (JAMB) 8 Keys For Easy Navigation – To move from one question to the next, use the keys on the keyboard.
The main P is used to return to the previous issue.
The main N is used to proceed to the next question.
Choice A is selected using key A.
Option B is selected using key B.
Option C is selected using key C.
Choice D is selected by pressing the D key.
Submit is accessed by pressing the S key.
You must press the key twice in the JAMB test. The first press will ask if you are sure you want to apply, and the second will affirm your decision.
After pressing Key S once, press Key R to return (or cancel) the submission. Simply press the No button that appears in MSGist UTME-Computer.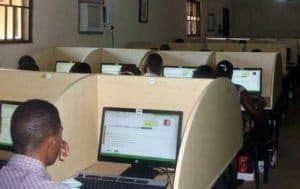 Is the CBT Practice Software for the JAMB UTME Really Free?
Yes, you can get the JAMB app for free by clicking the connection at the bottom of the page. However, as previously mentioned, it is a licensed program, and you must pay to receive its license to use its full features.
In reality, before paying for the product, you can try it out for free.
The cost of the Jamb CBT Software is as low as, N2000. To get yours, contact us @ 09056340901
Click to Download FREE Past Questions Here, Or Purchase below.
How to Purchase This Past Questions & Answers
---
Make a bank deposit or mobile transfer of ₦2,000 only to the account given below;
---
Bank Name: GTB
Account Number: 0663846532
Account Name: IJIOMA ELISHA
---
After making the payment, Click Here to send the following;
Depositor's Name or Screenshot of Payment
Name of the Past Question
Active Email Address
---
to us on WhatsApp +2349056340901.  Or Call Us On 07031822769
Once your details have been received and your payment confirmed by us, you will receive the past question in your email or WhatsApp within 5 Minutes.