ExxonMobil Graduate Internship Past Questions and Answers | Download ExxonMobil Graduate Internship Programme  Past Questions and Answers Here Online for the preparation of the Mobil Internship Aptitude Test Exams.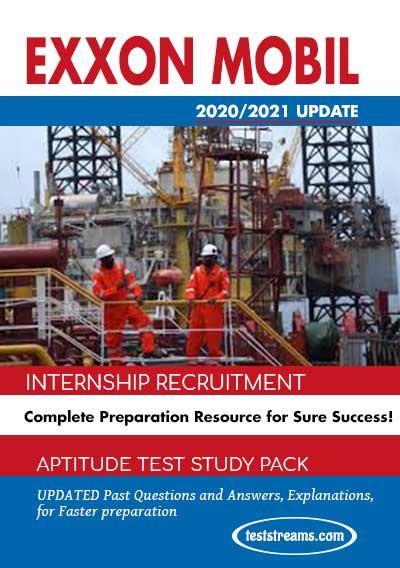 This programme offers recent Nigerian graduates the opportunity to gain invaluable industry experience in a world-leading engineering company. From day one of your internship, you can expect to apply your knowledge and experience in a real business setting. You will be given an opportunity to prove yourself through challenging assignments and gain valuable work experience, skills and knowledge that will take you a long way in your future career.
If you have the ExxonMobil Graduate Internship Programme Past Questions and Answers then you have no reason to fear while because you have equipped yourself with the best tools that will help you through the course of your ExxonMobil Graduate Internship Programme  Examinations, once you purchase these past questions you are then good to go.
SAMPLE QUESTIONS
1. Find the odd one out
A. Shopkeeper : Customer
B. Doctor : Patient
C. Lawyer : Client
D. Clerk : File
2. Question: question mark
A. Remark: colon
B. Aside: parenthesis
C. Sentence: period
D. Clause: semicolon
3. If FRIEND is coded as HUMJTK, how is CANDLE written in that code ?
A. EDRIRL
B. DCQHQK
C. ESJFME
D. FYOBOC
4. If S is the brother of N, the sister of N is M, the brother of P is J and the daughter of S is P then who is the uncle of J?
A. J
B. S
C. P
D. M
The refectory opens at 6:30 a.m. to serve breakfast which must be ordered by 9:30 a.m. Lunch is served between 11:45 a.m. and 2:30 p.m. Dinner is served between 6:00 p.m. and 8:30 p.m. Guests can be accommodated at lunchtimes and dinnertimes provided that 24 hours notice has been given. Vegetarian options are always available but vegans should notify the catering coordinator at the beginning of each term as should anyone with special dietary requirements. This includes nut, gluten and soybean allergies etc.
5. You can order lunch at 9:45 a.m. if you wish.
A. True
B. False
C. Can't say
6.
The pie charts above show the percentage of students in each faculty at North West University and the number of non-US students in the Arts faculty. These percentages have been rounded to the nearest whole number. There are a total of 1049 students in the Arts faculty. Use this information to answer the following questions.
7. What percentage of students in the Arts faculty are non-US students?
A. 14%
B. 9%
C. 30%
D. 11%
E. 15%
8. How many students are there in the Engineering faculty?
A. 420
B. 410C. 390
D. 440
E. 400
9. If six percent of science students are Asian. How many Asian students are there studying science?
A. 48
B. 66
C. 120
D. 57
E. 43
10. It costs a manufacturer X dollars per component to make the first 1,000 components. All subsequent components cost X÷3 each. When X = $1.50 How much will it cost to manufacture 4,000 components?
A. $3,500
B. $3,000
C. $4,000
D. $4,500
Click to Download FREE Past Questions Here, Or Purchase below.
How to Purchase This Past Questions & Answers
---
Make a bank deposit or mobile transfer of ₦2,000 only to the account given below;
---
Bank Name: GTB
Account Number: 0663846532
Account Name: IJIOMA ELISHA
---
After making the payment, Click Here to send the following;
Depositor's Name or Screenshot of Payment
Name of the Past Question
Active Email Address
---
to us on WhatsApp +2349056340901.  Or Call Us On 07031822769
Once your details have been received and your payment confirmed by us, you will receive the past question in your email or WhatsApp within 5 Minutes.